Middlesex Water Company Appoints Robert Capko Principal Accounting Officer
April 3, 2023 at 4:16 PM EDT
ISELIN, N.J., April 03, 2023 (GLOBE NEWSWIRE) -- Middlesex Water Company (NASDAQ:MSEX) has named Robert J. Capko, Principal Accounting Officer, effective April 1, 2023.

Mr. Capko will continue to serve as Corporate Controller of Middlesex Water and its subsidiaries including the Pinelands Water and Wastewater Companies, Utility Service Affiliates (Perth Amboy) Inc., and Utility Service Affiliates. He also serves as Treasurer of Tidewater Utilities, Inc. and its subsidiary, White Marsh Environmental Systems, Inc.
In this new additional role, Mr. Capko will assume more defined responsibilities in the areas of external financial reporting and capital financing.
Mr. Capko joined Middlesex Water Company in 2009. Prior to joining Middlesex, he was employed as Audit Senior Manager at Deloitte & Touche LLP in their Energy and Public Utilities Group where he provided audit assurance services to a diverse clientele of publicly traded regulated utilities and other businesses. 
"Rob's public utility background, financial management experience and knowledge of financing and rate matters is an excellent complement to our executive leadership team," said Middlesex Water Chairman, President and CEO Dennis W. Doll. "We look forward to his continued contributions to our company's success," added Mr. Doll.
About Middlesex Water Company
Established in 1897, Middlesex Water Company (NASDAQ:MSEX) serves as a trusted provider of life-sustaining high quality water service for residential, commercial, industrial and fire protection purposes. The Company and its subsidiaries form the Middlesex family of companies, which collectively serve a population of nearly half a million people in New Jersey and Delaware. We offer a full range of water, wastewater utility and related services including municipal and industrial contract operations and water and wastewater system technical operations and maintenance. We are focused on meeting and balancing the needs of our employees, customers, and shareholders. We invest in our people, our infrastructure and the communities we serve to support reliable and resilient utility services, economic growth and quality of life. 
Contact:
Bernadette Sohler, Vice President – Corporate Affairs
Middlesex Water Company
(732) 638-7549
www.middlesexwater.com
A photo accompanying this announcement is available at https://www.globenewswire.com/NewsRoom/AttachmentNg/84843703-e945-4d91-9336-121d0efc10f5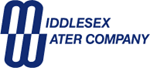 Source: Middlesex Water Company